From Frustration to Inspiration: Navigating Tough Days in the Studio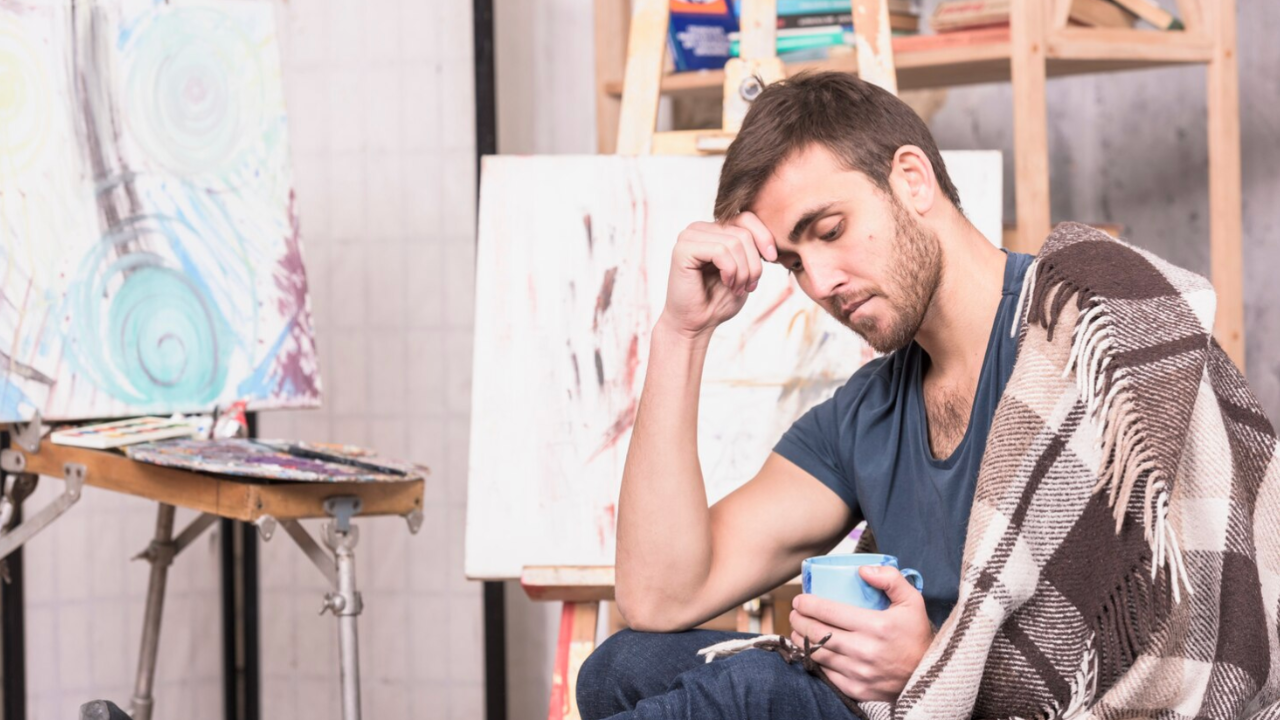 Are you an artist who's no stranger to those days when your studio feels like a battleground? I know I've been there. Whether your creative struggle lasts a few hours, a few months, or even longer, the creative process can be a rocky road. Paintings refuse to cooperate, tools seem to betray you, and sometimes, it's your own mind that gets in the way. That stubborn inner critic is often the toughest opponent to silence.
Why Do We Battle Bad Studio Days?
Ever wondered why we keep pushing through the challenging times in the studio? It's because we artists want to conquer the day; we want to leave the studio with a sense of accomplishment, knowing we've produced something meaningful. I get it, I've had countless days like that.
But here's the catch: sometimes, the more you fight those bad days, the more aware you become of their presence. It's like an uninvited guest who overstays their welcome. Instead of solely focusing on productivity, what if we shift our perspective to the art of "being"?
The Art of Being
Being is just as important as creating. It's an artist's state of mind that transcends the studio's physical boundaries. There are no tools, no time constraints, and certainly no limitations. Recognizing and believing in who we are as artists is a liberating notion, especially on days when it feels like nothing is happening. In reality, something profound is taking place. You're in the midst of the creative process, wrestling with your thoughts and ideas.
Beyond the struggle lies the potential for discovery, realization, and enlightenment. Those moments of frustration may very well be the precursors to ideas that can change everything.
So, if you're battling your canvas today, as I was just a few weeks ago, embrace the art of being, keep wrestling, and persist. You might be just one moment of frustration away from an idea that changes everything.
Ready to take your art career to the next level? If you're seeking support and guidance to navigate the twists and turns of your creative journey, I invite you to explore the Art NXT Level Coaching Program. It's a valuable resource for artists like you who are determined to succeed in the ever-evolving world of art. Don't go it alone; take that next step toward realizing your artistic dreams. Your journey to artistic enlightenment awaits.
Sergio Gomez, MFA
Artist | Curator | Author | Art Biz Coach
• FOLLOW ME:
TikTok | Instagram | Facebook | Twitter | LinkedIn | YouTube | iTunes | Artsy | Clubhouse
• GET ART CAREER SUPPORT
www.theartistnextlevel.com
• VISIT MY ART STUDIO WEBSITE
www.sergiogomezonline.com
• LISTEN TO MY PODCAST
https://www.theartistnextlevel.com/blog
• VISIT MY CURATORIAL ONLINE PROJECTS
www.sergiogomezcurates.net
• VISIT MY ART GALLERY
www.33contemporarygallery.com
• GET MY BOOK
Crush Self-Sabotage and Live Fully!
Stay connected with news and updates. Get on the Art NXT Level Weekly!
Join our mailing list to receive the latest news and updates from our team.
Don't worry, your information will not be shared.
Subscribe